This site is reader-supported. I may earn a commission if you purchase through some of the links in this post. Thank you.
The DYNAMIC SE Bike Trainer, weighing a net 17.6 lb, is an exercise Bicycle Magnetic Trainer fit for your indoor cycling exercise. This stand has six magnetic levels with a quick-release skewer. No matter the weather outside or the season you're in, this product allows you to train all year round, improving your skills and resistance.
It is also suitable for your pre-race warm-up along with the obvious indoor training and skill management. This bike trainer will also save you precious time by allowing you to train at home, getting rid of the seasonal training obstacles.
Its overall dimensions are L-21.5″ W-18.9″ H-15, but it is foldable for better storage when not in use. The folded storage dimensions are L-21.5″ W-3.7″ H-15″, which represents how easily stored it can be when it is not in use.
When bought, you will obtain not only the bike stand but also a resistance remote, a front-wheel block, and the skewer you need. It works with 26″ up to 28″ and 700C wheels, and it includes noise reduction technology, which lowers the noise level but does not get rid of it completely.
It features 6-level magnetic resistance for different kinds of training, and it generally comes in a discreet and appealing matt black color, but there are other color options.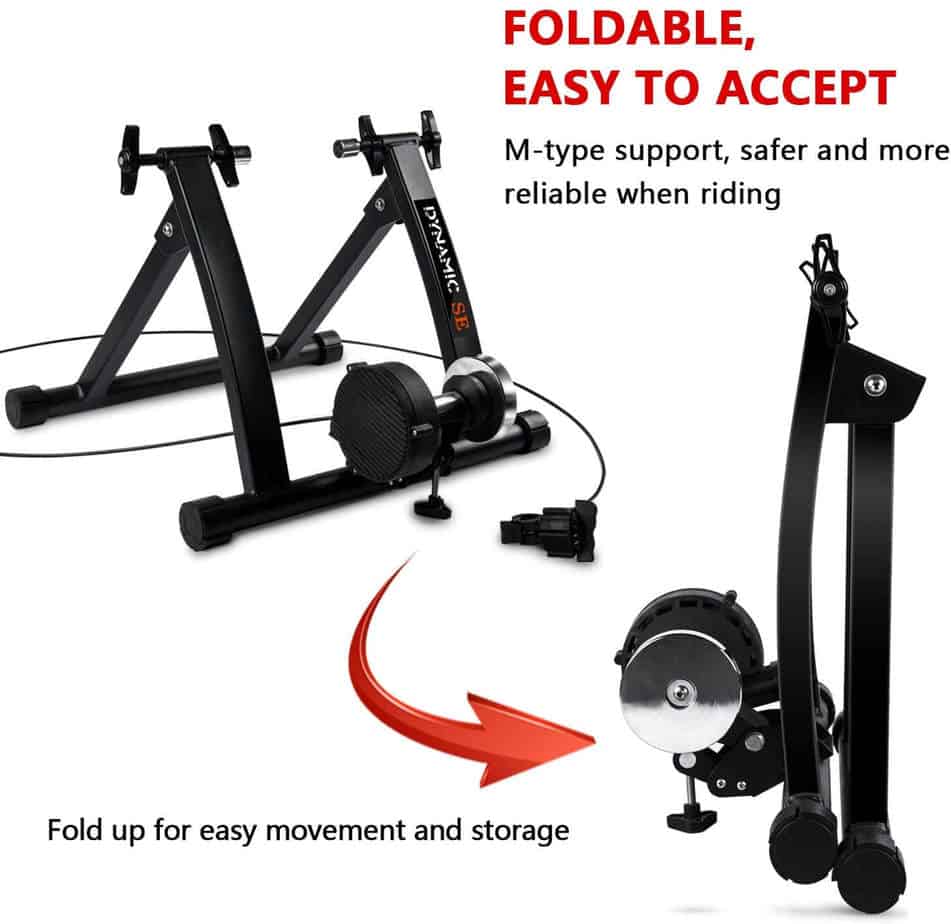 The dynamic SE indoor bike trainer is a heavy-duty option, featuring an extra-wide base, and also a low stance that allows you to maintain your standout balance. The material is Q195 steel, and its wide stable base is great for you to get a solid performance during hard efforts. It features adjustable rubber feet on the bottom of the unit; this feature prevents slippage and floor scuffing.
Key takeaways:
DYNAMIC SE Bike Trainer is suitable for indoor cycling exercise and pre-race warm-ups.
Trainer features six magnetic resistance levels and noise reduction technology.
It is foldable for easy storage and has a quick-release skewer.
Compatible with 26″-28″ and 700C wheels.
Heavy-duty option with an extra-wide base and low stance for balance.
Made of Q195 steel material with adjustable rubber feet to prevent floor damage.
Customers praise its easy mounting and user-friendly setup.
Ranked highly in various top 10 lists and recommended with a score of four out of five stars.
CHECK PRICE ON AMAZON
Pros and Cons
As mentioned before, this turbo trainer stand is magnetic/fluid-based, which cuts on noise production, and it is easily folded when it needs to be stored. It is quickly mounted and set up too, yet it doesn't provide a large range of wheel adaptability.
Regarding the noise amount, it is important to mention this is cut when you use this product with mountain bike tires, as it affects the overall noise output. It has optional resistance, for different types of training, depending on the objectives you have set for your training sessions and the overall exercise and skills you aim to obtain.
The design is discreet and adapts to your bike perfectly when you follow the instructions that allow you to make the most out of the product. It works best in any workout conditions, although it is mostly used for indoor practice. It might not be the best choice for a cyclist that needs mobility for indoor and outdoor training.
Pros
Magnetic/fluid-based for reduced noise production
Easily foldable for storage
Quick mounting and setup
Optional resistance for varied training types
Discreet design that adapts well to the bike
Suitable for any workout conditions, mainly indoor practice
Cons
Limited wheel adaptability
Noise reduction mainly effective with mountain bike tires
May not be ideal for cyclists needing mobility for both indoor and outdoor training
Customer Feedback
Customers emphasize the ease of mounting the Dynamic SE Indoor bike trainer, which positively impacts its reputation. With its quick-mount feature, you can effortlessly set it up for a training session whenever needed.
Final Score
As the dynamic SE indoor bike trainer is mentioned in various top 10 lists, it is impossible not to give it a good score, so we recommend it with four stars out f 5.
But there are more bicycle trainers you should learn about. You can also read our guide on the best bike trainers on the market.