This site is reader-supported. I may earn a commission if you purchase through some of the links in this post. Thank you.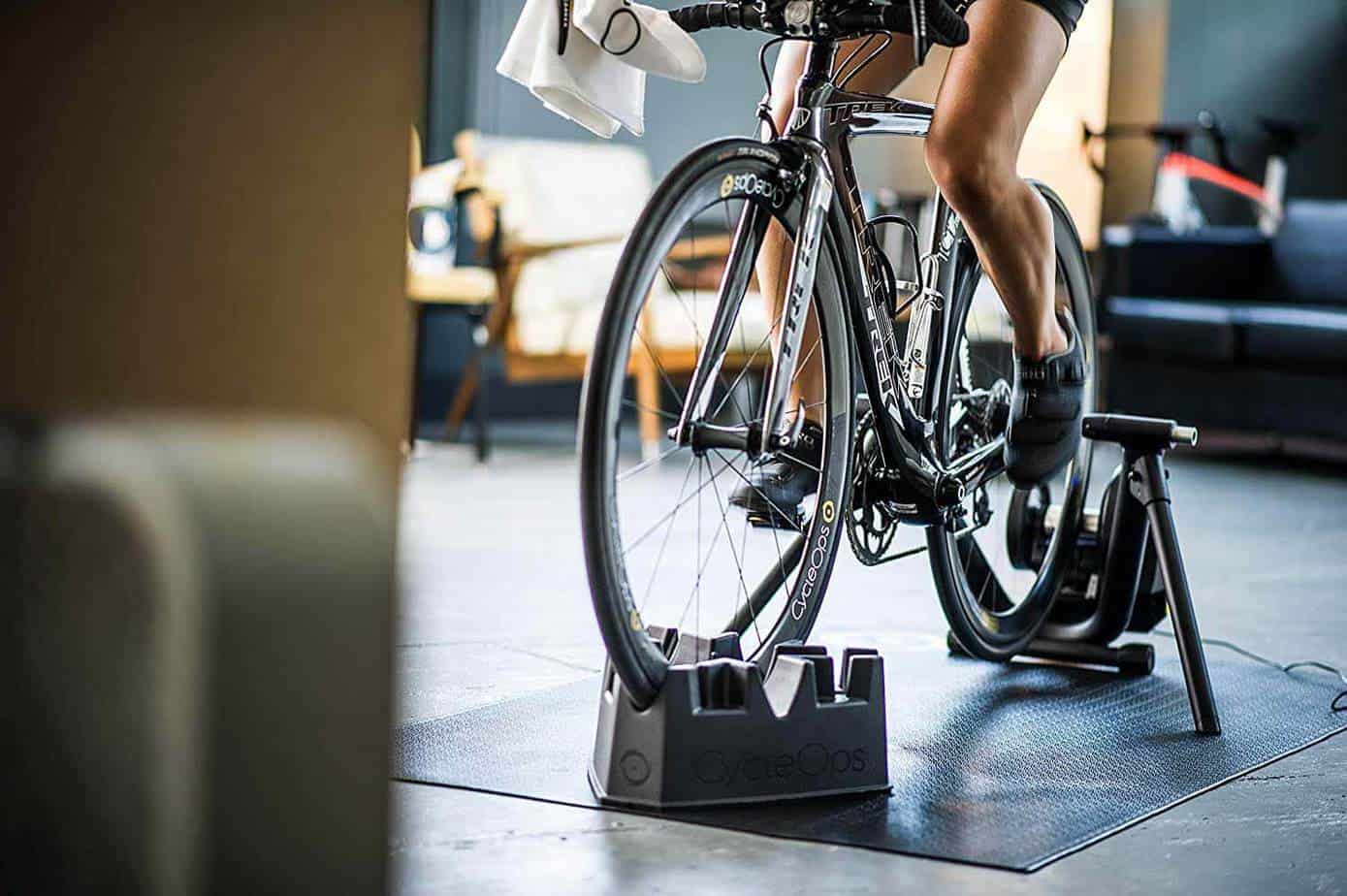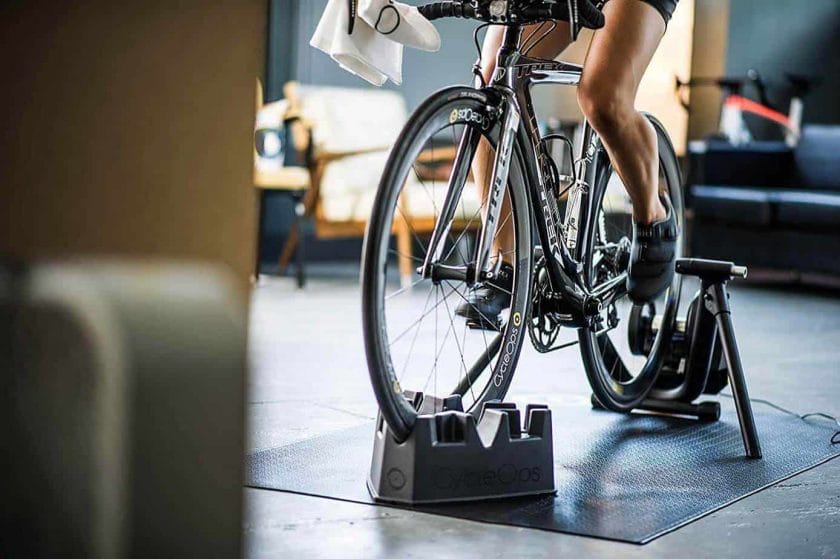 The summer/winter debate can go on endlessly. Some people like beaches while others prefer home warmth. But for cyclists, it's much easier. We hate winter! Unless you like riding in whopping loads of ice, that's how you should feel. 
Luckily, the solution couldn't be simpler. With bike trainers, you can have the same outdoor experience when you can't practice outdoors. If this is something that you need, then the CycleOps Fluid 2 is among the best options.
What does it offer? What's unique about it? And what might ruin your experience? That's what I'll answer in the CycleOps Fluid 2 indoor bicycle trainer review. Let's see!
Key takeaways:
CycleOps Fluid 2 indoor bicycle trainer offers a realistic outdoor cycling experience.
It uses fluid resistance for quieter and better performance compared to magnetic and wind trainers.
The precision-balanced flywheel simulates natural road cycling experience.
Easy-to-use tightening mechanism eliminates the guesswork in adjusting tightness.
CycleOps Fluid 2 is lightweight, easy to transport, and store.
The fluid trainer is considerably quieter than wind trainers.
It has a large weight capacity of up to 300 lbs.
The trainer fits various bike sizes with an optional thru-axle adapter available.
Some customers received shipments with missing parts, but Saris offers excellent customer support.
CycleOps Fluid 2 is more expensive than magnetic trainers but offers better performance.
CHECK PRICE ON AMAZON
CycleOps Fluid 2 Features
In this section, we'll take a look at the technical features that set this trainer apart from its competitors. 
It Works with Fluid Resistance
If you've been searching for bicycle trainers for a while, you probably stumbled upon different mechanisms. Some trainers depend on the magnetic repulsion, while others push against the wind. 
As the name implies, the CycleOps Fluid 2 depends on fluid pressure. When your bike's tire spins against the resistance roller, it pushes against a fluid inside its container, giving you the natural sense of road resistance. 
I don't know about you, but fluid resistance is my personal favorite. Since the fluid is enclosed, it's much quieter than wind trainers. And with the high viscosity of the fluid, it can easily surpass magnetic trainers in terms of resistance. 
It Perfectly Mimics the Road Experience
Before explaining how the flywheel on the CycleOps differs from others, we should take a brief look at how it works. 
The Science behind Flywheels
Ever wondered how a bicycle trainer differs from an exercise bicycle? The secret lies in the flywheel. Simply put, the flywheel is the fan-shaped part present opposite to the fluid reservoir. 
With its unique, meticulous engineering, the flywheel is able to preserve momentum. When you stop pedaling, it will keep moving the tires. This way, a cyclist can enjoy a simulation pretty close to how a road feels.
Exercise bikes are merely tools that put resistance against your muscles. They're not capable of simulating the bike's momentum.
The Flywheels of CycleOps Fluid 2 Are Perfectly Tuned
Not all flywheels are created equal. Some products are made with too heavy resistance, which makes it hard to operate. Other models hardly give any resistance with their light construction.
Luckily, the CycleOps Fluid 2 falls in the middle. With its precision-balanced flywheel, you'll enjoy a seamless cycling experience.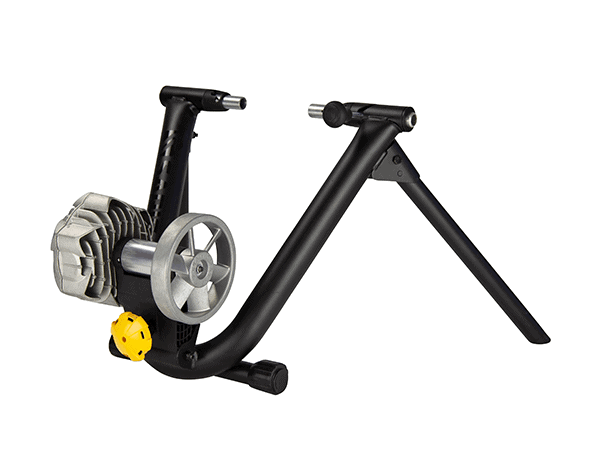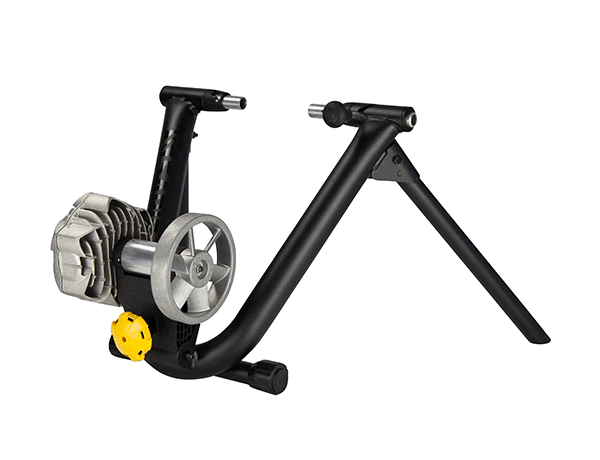 Easy-To-Use Tightening Mechanism
It can be quite hard to fine-tune the tightness of other bike trainers. If you rotate the tightening knob more than it should, the trainer would be harder than needed. As a result, you'll have to keep tightening and loosening to know what works and what doesn't. 
In CycleOps Fluid 2, things are totally different. When the tightening knob reaches a certain pressure, it sounds an audible click. This way, you can know for sure when the trainer is tight enough. No more guesswork! 
Size & Weight 
When fully assembled, the CycleOps Fluid 2 weighs around 22 pounds. As a result, it can be carried anywhere with ease. 
The storage is convenient, too.  When you fold its legs, it'll measure 10 inches in height, 18 inches in length, and 13 inches in width. That said, it can be stored either upright or flat. 
What I Like 
Now that we've reviewed the technical features, we can move onto the advantages you'll notice in action.
It's a Lot Quieter
I know that I've already mentioned this point, but I had to put a little more emphasis. Wind trainers are awfully noisy. It's absolutely frustrating to have your neighbor complaining about the thundering noise every time you practice. 
CycleOps Fluid 2 is certainly far from being completely silent. But with a maximum of 64-68 decibels, it would never annoy people living next door.  
Depending on fluid rather than air makes most of the difference, but the wide resistance roller also contributes. With a diameter of 2″, the roller would spin fewer times while maintaining the same power. 
Large Weight Capacity
Most of the bike trainers can't support more than 250 lbs. And of course, this includes the weight of the cyclist and the bike. 
The CycleOps Fluid 2, on the other hand, goes the extra mile by allowing loads as heavy as 300 lbs. Those extra pounds can be helpful if you have a specially-designed bike with a whopping set of add-ons. 
It Fits Many Bikes
Saris designed the CycleOps Fluid 2 with a rear dropout spacing that fits 120mm, 130mm, and 135mm bikes. 
Although this range fits most of the commonly used bikes, Saris offers an optional thru-axle adapter that can fit 142mm and 148mm bikes. 
Naturally, having a trainer that fits whatever bike you have gives the best value possible. 
What I Don't Like
Nothing is perfect, right? Although the CycleOps Fluid 2 seems awesome until now, there are some points that might be quite inconvenient. 
The Shipment Might Miss Some Parts
As you probably know, all the trainers come disassembled. This saves more space, making it easier to deliver. Plus, anyone can easily put it together anyways by following the attached manual. 
On the downside, several customers opened their packages only to find that some essential parts are missing. 
Although this is pretty annoying, Saris always shows excellent cooperation. If this happened to you, call their customer support, and describe the missing parts in detail. They should arrange another shipment as soon as possible
It's Quite Expensive
To be fair, the CycleOps Fluid 2 doesn't fall too far from other fluid trainers. However, it costs nearly double the price of the conventional magnetic trainer. 
I know that performance is way more different. But still, the higher price would be a deal-breaker for cyclists tight on budget.
What Do the Customers Say?
Overall, customer reviews came out positive. People are primarily happy with its low noise. A customer proposed using a smooth tire to reduce the noise even more. 
When it comes to resistance, several customers were satisfied. But one user explained that it could feel "too easy" when he uses the 18th gear on his bike. Then again, this can differ between cyclists based on body strength and overall experience.
Another user was a bit unhappy with the installation guide. He said that the overall experience was somewhat easy, but some steps weren't properly explained.
The Final Word
Without a doubt, the CycleOps Fluid 2 indoor bicycle trainer is among the best. With its perfectly designed flywheel, it simulates the same exciting feel of outdoor cycling. 
Although it's more expensive than magnetic trainers, the difference in performance is priceless. With its unique tightening knob, the guesswork becomes fully obsolete. And with a large set of positive reviews, you can be assured about its extended durability. 
Give it a go, I'm sure your experience will be even more pleasant than going through this review. Send me your feedback if you opt by the CycleOps Fluid 2; I always like to learn about different experiences. If you still have any doubt about the different type of trainers or feel like analyzing other options, check out the updated guide I put together with the best bike trainers you can find on the market right now, so you can compare and find the best solution for you.