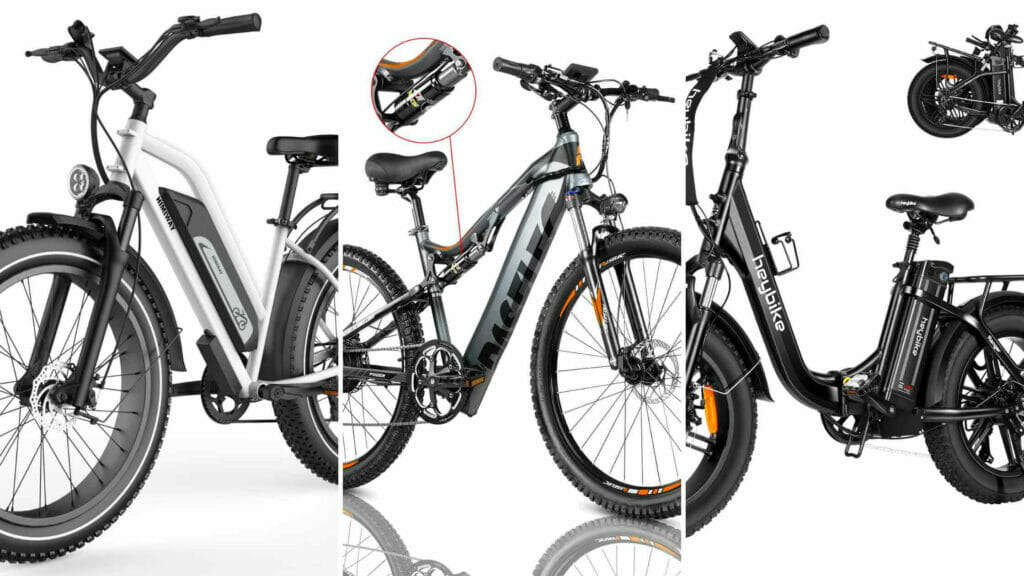 Electric bikes are becoming increasingly popular as more people discover the convenience and fun of riding an e-bike. As a short rider, you may have faced some challenges when finding the perfect electric bike for your specific needs. Not to worry – there are excellent options available for short riders, ensuring a comfortable and enjoyable riding experience.
When searching for the best ebikes for short riders, focusing on features such as frame size, step-through designs, and adjustability of both seat and handlebars will help you find the perfect match. E-bikes come in various designs and sizes, and some are specifically tailored for smaller riders. Considering these factors, along with the power and range of the bike's motor, can ensure that you find the right electric bike for your needs.
Best Electric Bikes for Short Riders
Are you eager to find the perfect electric bike for short riders? Look no further! We've gathered an exciting list of the best ebikes in designed specifically for short riders, ranging from commuters and folding bikes to robust 750w e-bikes.
These electric bikes offer maximum comfort, adjustable handlebars, and convenient step-thru frames for ease of use. Enjoy the thrill of e-bike adventures, regardless of your height, and get ready to discover your new favorite ride!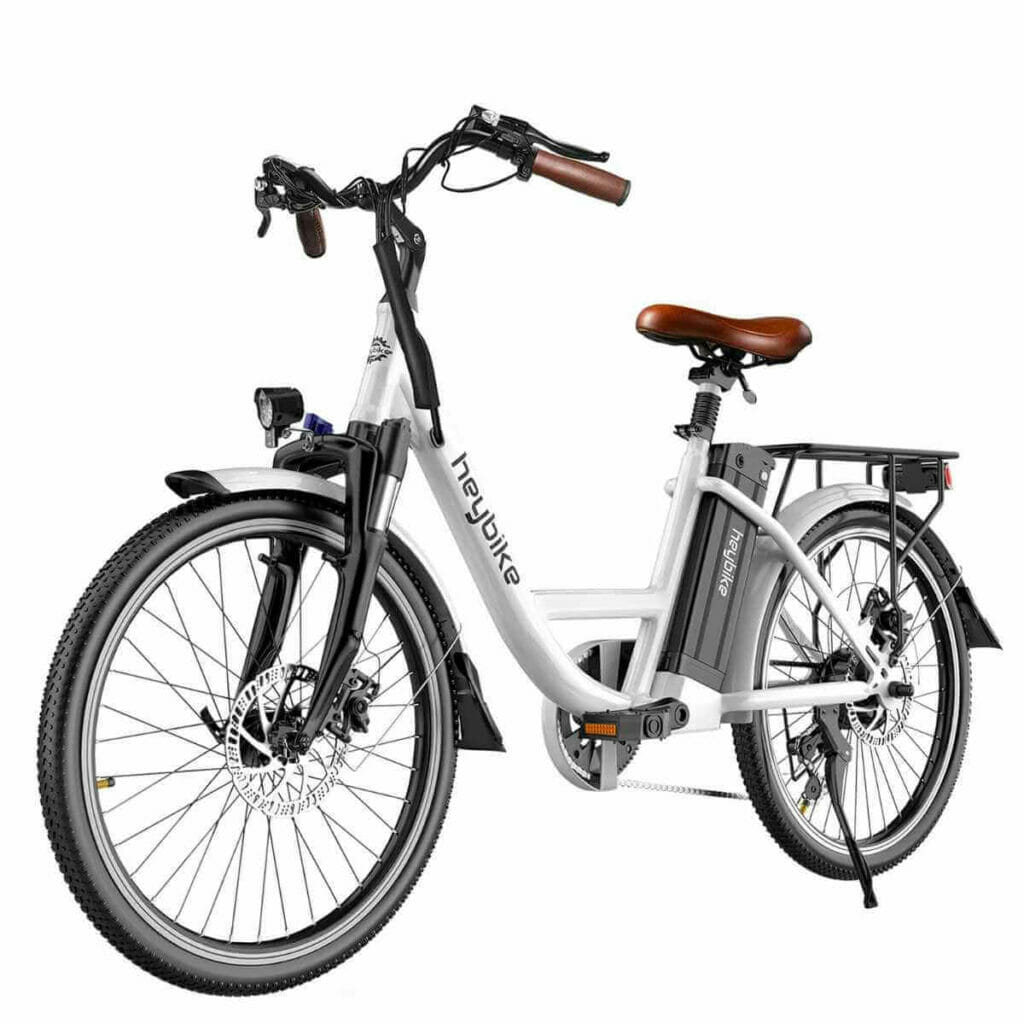 If you're a short rider seeking an electric bike, the Heybike Cityscape Electric Bike is the perfect choice for your commuting needs.
Pros
Long-range battery and powerful motor
Step-through frame for easy access
Great commuting features, like lights and cargo rack
Cons
Seat may be uncomfortable for some users
Manual lacks clear instructions and images
Heavier compared to non-electric bikes
The Heybike Cityscape Electric Bike isn't just for short riders; it's packed with impressive features that will enhance your riding experience. With a 350W motor and a long-range battery, you can travel up to 40 miles per charge using pedal assist. You'll be amazed at the 19 mph top speed most e-bikes don't offer. The easy step-thru frame design fits riders of all sizes and lends itself perfectly to commuting.
The small frame electric bike makes it easy for short riders to get on and off, particularly if you're 5 feet or under. Paired with the 26″ puncture-resistant tires and a Shimano 7-speed system, this e-bike ensures a smooth and enjoyable ride. The Cityscape also boasts dual shock absorbers to help you navigate uneven terrain with ease. The integrated rear rack is perfect for carrying your cargo or attaching panniers, baskets, and platforms to suit your specific needs.
The downside of this electric bike for shorter riders is the seat. Some users have reported discomfort due to its hardness. If it's an issue for you, consider replacing the seat with a more cushioned option.
Another challenge may be the assembly manual, as it lacks clear instructions and images to guide you. However, most customers still found the assembly process relatively straightforward due to the bike arriving mostly pre-assembled. Lastly, be aware that electric bikes like the Cityscape are heavier compared to traditional bikes, which might be a concern for some riders.
Overall, the Heybike Cityscape Electric Bike is a fantastic commuting option designed with short riders in mind. Its blend of performance, comfort, and practicality make it one of the best e-bikes. So, what are you waiting for? Your perfect ride awaits!
CHECK PRICE ON AMAZON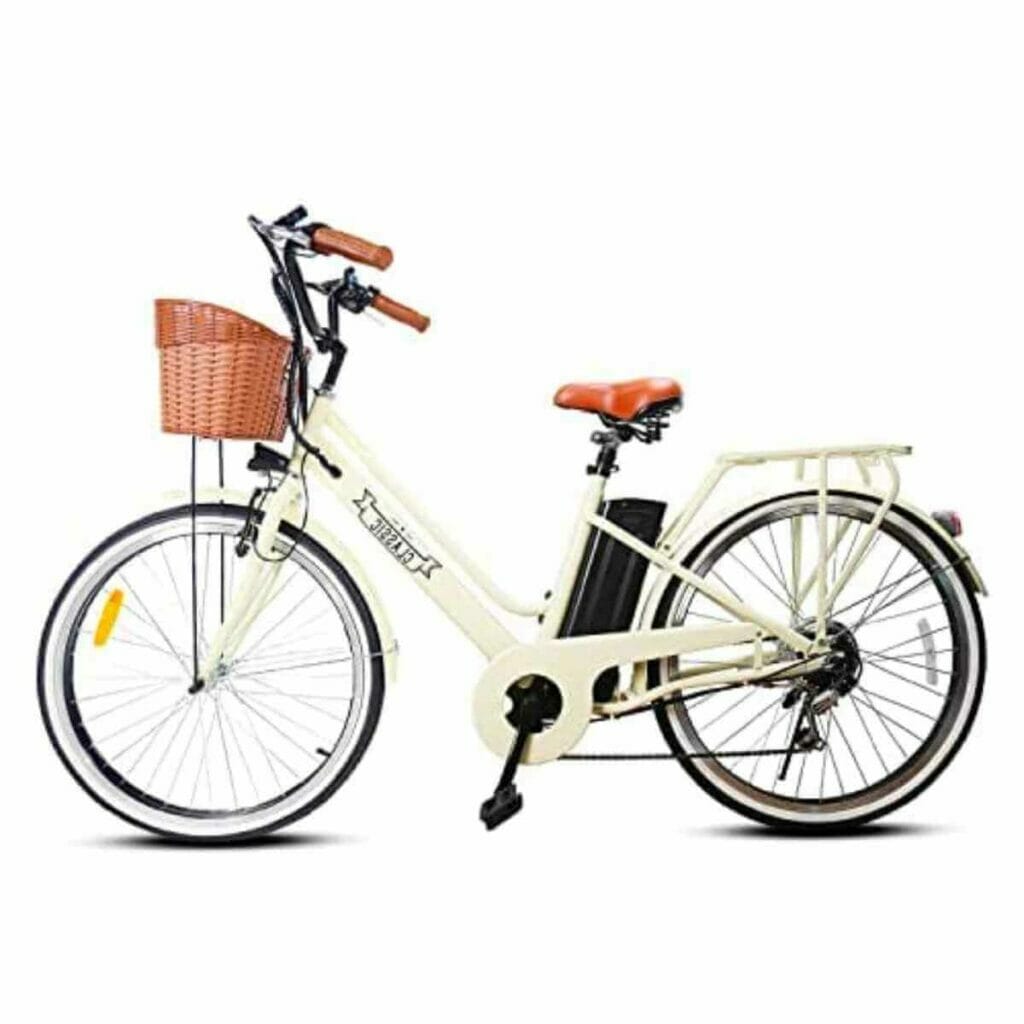 If you're a short rider looking for a reliable and versatile electric bike, the NAKTO 22″/26″ Electric Bike for Adults is definitely worth considering.
Pros
1 Year Warranty & Professional After-sales Service
350W brushless high-speed motor with 22-28 miles per charge
Great braking system with safe cycling features
Cons
Requires some assembly upon arrival
Heavier compared to other e-bikes (53 pounds)
Pedal assist can lack precision at times
The NAKTO Electric Bike is a fantastic option for short riders who want a comfortable, durable e-bike that can handle various terrains. With a high-quality carbon ferroalloy frame and a 350W brushless high-speed motor, you'll find it easy to tackle those hills and cut down your commuting time.
This e-bike boasts an impressive range of 22-28 miles (30-45 km) per charge, and its 36V 12Ah removable lithium battery can be fully charged in just 4-6 hours. No more worrying about running out of power mid-ride or long charging times!
With its front V-brake and rear expansion brake system, you can feel confident that you'll be able to stop safely whenever you need to. The 6-speed gear options give you the flexibility to choose the perfect speed for your ride, and the bright headlight ensures your safety during nighttime adventures.
CHECK PRICE ON AMAZON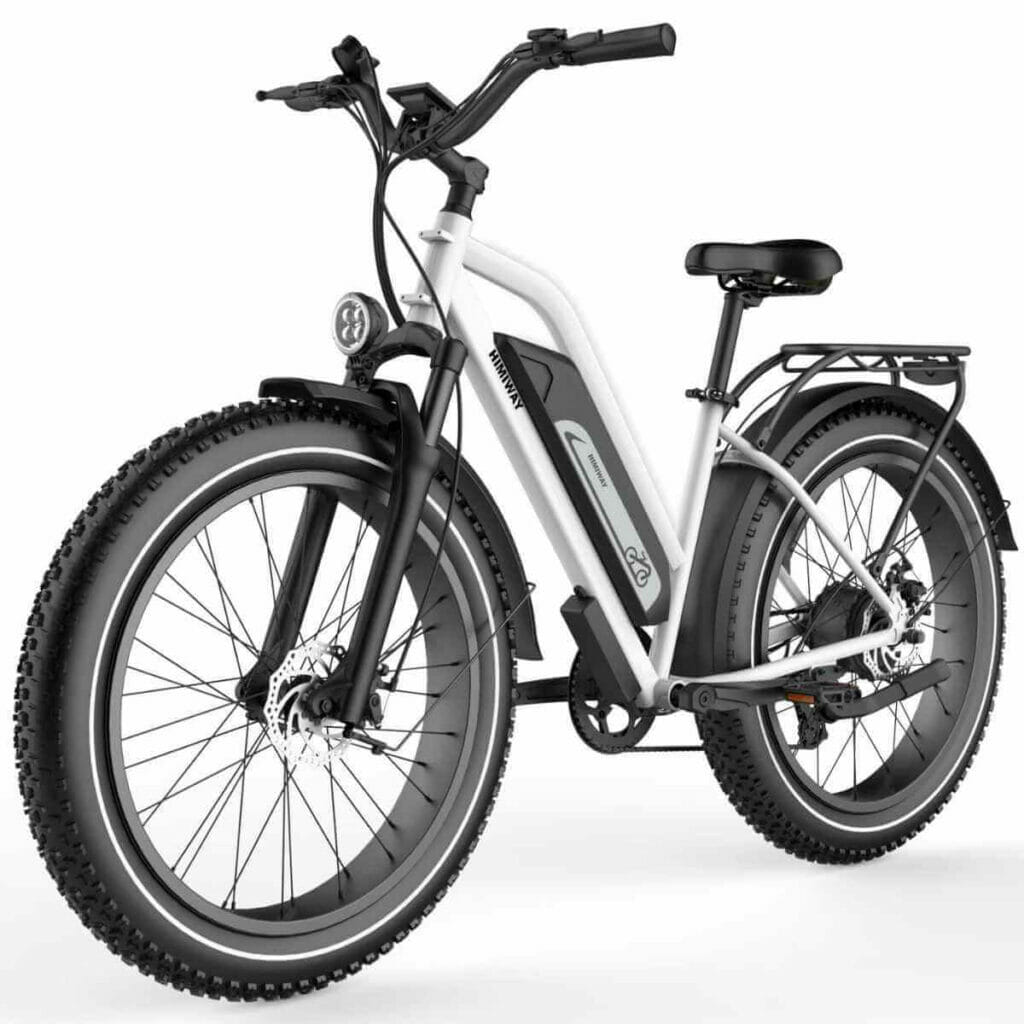 If you're a short rider looking for a comfortable and powerful e-bike, the Himiway Cruiser is an excellent choice for you.
Pros
Long range with a Samsung/LG 48V 17.5Ah battery
750W motor for tackling hills with ease
26″x4″ fat tires for a smooth ride on various terrains
Cons
Heavier than many other e-bikes
Not the most affordable option
Some users have reported power issues while pedaling
The Himiway Cruiser is a versatile e-bike designed to conquer both city streets and off-road trails. Its 48V 17.5Ah battery delivers a fantastic range of 60 miles in pedal-assist mode, so you'll never have to worry about running out of power during your rides. The bike also features a 750W motor that provides enough torque to tackle 35° slopes, making this a great choice for those who live in hilly areas.
One of the standout features of the Himiway Cruiser is its 26″x4″ fat tires, which offer increased traction and a smoother ride on a variety of surfaces like sand, snow, and rocky trails. Moreover, the 6061 aluminum frame is robust and able to handle up to 350 lbs, so cargos are not an issue. Furthermore, the step-thru design of the bike ensures easy mounting and dismounting, which is perfect for short riders or those with mobility limitations.
While the Himiway Cruiser is an excellent e-bike for short riders, it's worth noting that it's heavier than many other models, making it slightly more challenging to handle. It's also on the pricier side, but if you're willing to invest in better performance, the Himiway Cruiser is a top pick. With a 2-year warranty and lifetime service, you can feel confident in your purchase knowing that you're getting a sturdy and reliable electric bike for all your commuting or leisure needs.
CHECK PRICE ON AMAZON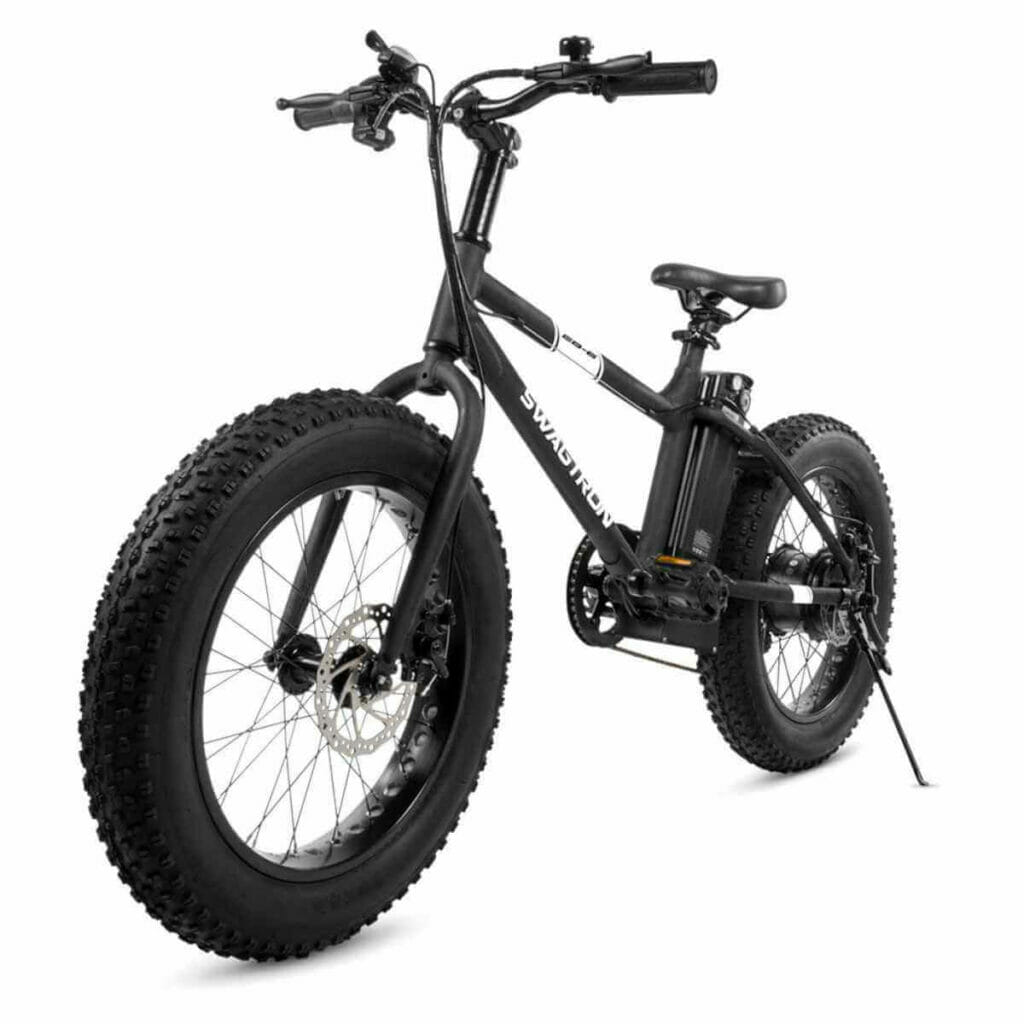 The Swagtron EB-6 is an excellent choice if you're looking for the best electric bike for short riders, with its easily adjustable design and reliable performance.
Pros
4-inch fat tires for maximum traction and smooth ride
7-speed Shimano gears for versatile terrain handling
Easy-to-use dual disc brakes for safety and control
Cons
Heavier than some competing e-bikes
Not ideal for very tall riders
Limited to 20 mph top speed
The Swagtron EB-6 Bandit E-Bike is a fantastic option for short riders, as it is designed to accommodate a wide range of rider heights. The adjustable seat height and handlebar positioning make it effortless to find the right fit for your body, ensuring a comfortable and enjoyable riding experience.
The 4-inch fat tires provide excellent traction on various surfaces, making this e-bike perfect for off-road adventures and trail riding. With its 7-speed Shimano gears, you can easily transition between different terrains, making it a versatile option for various types of outings. Additionally, the dependable dual disc brakes give you the confidence to control your speed and come to a safe stop when needed.
There are a few downsides to consider, such as the bike's heaviness compared to other electric bikes on the market. However, this also highlights its durable construction made from 6061-series aluminum. Furthermore, the top speed of this e-bike is limited to 20 mph, which could be a minor issue for speed enthusiasts. Overall, the Swagtron EB-6 Bandit E-Bike offers a comfortable and reliable ride perfect for short riders seeking a quality electric bike for their outdoor adventures.
CHECK PRICE ON AMAZON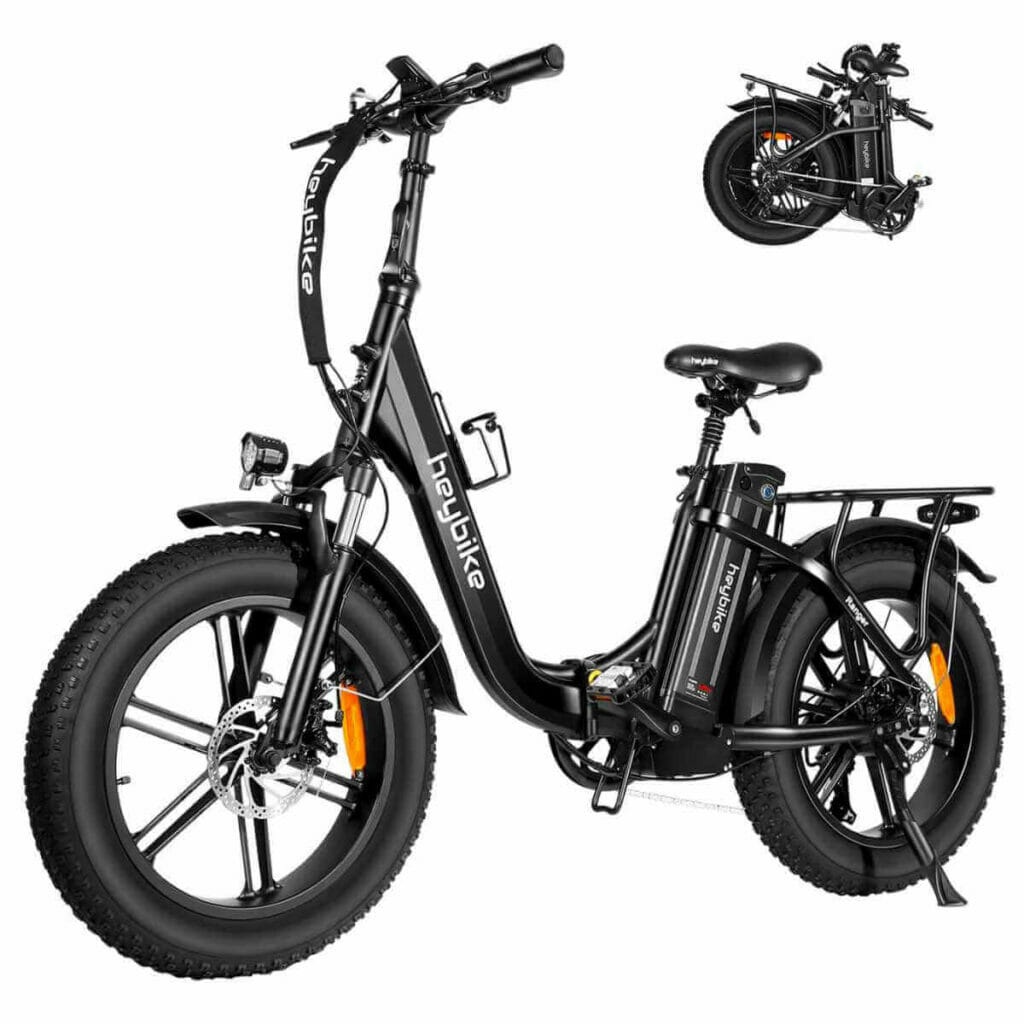 If you're a short rider seeking a foldable electric bike, the Heybike Ranger is an excellent choice.
Pros
Impressive range and top speed
4-inch fat tires and shock absorbers for all-terrain capabilities
Foldable and step-thru frame for convenience and adaptability
Cons
Heavier than some alternatives
Pre-assembled accessories may require adjustments
Shorter riders might find the handlebar height slightly high
The Heybike Ranger comes with a 500W motor and a removable 48V 15Ah battery, allowing you to travel up to 48 miles on a single charge and reach a top speed of 25 mph. This impressive range and speed make it the best electric bike for short riders who need a reliable e-bike for daily commutes, off-road adventures, or casual rides around town.
One of this e-bike's standout features is the 4-inch wide puncture-resistant fat tires combined with excellent suspension. These tires provide a comfortable and stable ride over various terrains, including city roads, trails, snow, and even sand. The versatility of the Heybike Ranger means you'll enjoy a smooth ride no matter where you decide to go.
A convenient foldable and step-thru frame design makes the Heybike Ranger suitable for riders of different sizes while also making it easy to store and transport. With an adjustable stem and seat, you can customize this e-bike to fit your needs, ensuring maximum comfort on rough terrain or long rides. The dual suspension system also enhances your experience by reducing vibrations and absorbing impact.
CHECK PRICE ON AMAZON
Take your riding adventures to new heights with this versatile e-bike designed specifically for shorter riders.
Pros
Powerful 750W motor for various terrains
Large capacity removable LG cells battery
Three different riding modes for flexibility
Cons
Potentially tall top tube for some riders
Heavier than traditional bikes
Limited to 28 MPH top speed
As a shorter rider, finding the right electric bike can often be a challenge. The VELOWAVE Electric Bike excels in providing exceptional riding performance tailored to your needs, with its 750W BAFANG motor, fat tires, and adjustable features. You'll love the versatility and freedom you experience as you venture across various landscapes without skipping a beat.
When it comes to battery life, this e-bike won't leave you stranded. Equipped with a 48V 15Ah LG cells battery, it covers an impressive 25-50+ mile range (varies by conditions) on a single charge. Additionally, the battery is removable, so you can conveniently bring it indoors for charging. With three available riding modes: Pure electric mode, pedal-assist mode, and classic bike mode— your e-bike adapts to your preferred riding style for maximum comfort and enjoyment.
While this electric bike has a lot to offer, it's essential to be aware of some potential drawbacks. Some riders have mentioned the top tube being slightly tall, despite the smaller frame size, so take that into consideration if you're looking for a perfect fit as a shorter rider. Nevertheless, the VELOWAVE Electric Bike remains an excellent choice for those seeking an exciting and reliable e-bike geared towards short riders.
CHECK PRICE ON AMAZON
If you're a short rider looking for a comfortable and powerful e-bike, the PASELEC Electric Mountain Bike is an excellent choice for you.
Pros
Attractive design with hidden battery
Comfortable and effective suspension system
Powerful 750W motor with a top speed of 28 mph
Cons
Heavier than some other electric bikes
May require additional accessories for optimal comfort
Assembly instructions might be challenging for some
The PASELEC Electric Mountain Bike offers an appealing design for an electric bike, keeping the battery hidden and giving it the appearance of a more traditional mountain bike. Its sleek frame design appeals to riders who prefer a less electric look while still enjoying the benefits of e-bike technology.
In terms of comfort, the bike has a full suspension system that will allow you to cruise over bumpy mountain trails and smooth city streets with ease. Short riders will appreciate the efforts made to ensure a comfortable ride, with features such as a step-thru frame for easy mounting, adjustable handlebar height, and smaller frame size for easier maneuverability.
What sets this e-bike apart for short riders is its powerful 750w BaFang motor, which allows for a top speed of 28mph. Whether you're climbing steep hills or cruising down straightaways, you'll find the power to be more than sufficient. In addition, the bike comes with a 48V 13Ah LG cell battery, providing you with a range of up to 45 miles, perfect for both commuting and recreational rides.
In conclusion, the PASELEC Electric Mountain Bike is a top choice for short riders who want a stylish, comfortable, and powerful e-bike. With its array of features designed to please riders of all sizes, you'll find this bike to be a great option for meeting your unique needs as a cyclist.
CHECK PRICE ON AMAZON
Buying Guide – Ebikes for Short Riders
You're on the quest for the perfect electric bike for short riders, and you've come to the right place. In this buying guide, you'll learn about the essential features to look for in the best e-bikes that cater to shorter riders. So, buckle up and let's dive into the exciting world of electric bikes!
Frame Size and Design
When it comes to finding the best electric bike for short riders, the frame size and design play a crucial role. A step-thru or step-through frame is ideal for shorter people, as it offers a low-step clearance, making it easier to get on and off the bike. Moreover, bikes with smaller frames designed specifically for people with a height of 5 feet and below provide a more comfortable and accessible ride. Don't forget to visit your local bike shop to try different frame sizes and find the one that fits your stature best.
Adjustable Components
Another vital aspect to consider when searching for the perfect e-bike is the adjustability of its components. Look for a bike that has adjustable handlebars, pedal height, and seat height. This will allow you to customize the e-bike to your comfort and preference, ensuring a pleasurable ride experience for both short and tall riders alike.
Wheel Size and Motor
Shorter riders should pay attention to the wheel size, as smaller wheels offer better maneuverability and control. Electric bikes with 750w hub motors are a great option for short riders, as they provide ample torque and power without being too bulky. Remember, when it comes to electric bikes, the top speed is often capped at 20-28 mph (32-45 km/h) for safety reasons.
Folding E-Bikes
Folding electric bikes are an excellent choice for short riders who want the convenience of easy storage and transportation. Once folded, a folding e-bike becomes more compact, making it perfect for city dwellers, commuters, or riders with limited storage space at home. Plus, folding e-bikes often feature adjustable components, making them a great option for short riders.
E-Bike Type
Consider the type of electric bike that best fits your needs and riding style. Are you looking for a commuter electric bike or an electric mountain bike? Keep in mind that some e-bikes are designed specifically for short female riders or petite riders, offering a comfortable and effortless ride experience.
To sum up, finding the right e-bike for short riders might seem challenging, but by considering important factors like frame size, adjustable features, wheel size, and the type of e-bike, you're bound to find the perfect electric bike that suits your needs and preferences. So, whether you're riding for leisure, commuting, or conquering off-road trails, the world of electric bikes, e-bikes, and ebikes is right at your fingertips!